Our Powerhouse Team Is Firmly Devoted to Protecting the Rights of Our Clients
DUI Evaluations
DUI Evaluations in Illinois
Guidance from a Trusted Chicago DUI Defense Lawyer
Scheduling Your DUI Evaluation
To schedule your alcohol evaluation in Cook County, you must call 312-948-6001. You will need your ticket numbers when you call. If you don't reach someone to schedule the evaluation when you call, keep calling back. Leaving a message rarely works, so calling back repeatedly in the same day is best. You will eventually get through, I promise! Keep in mind the evaluation appointments book up weeks in advance, so don't wait to call for your appointment because the first available appointments are often more than a month out. Please see the image at the bottom of the screen from Central States Institute on what to bring with you to the evaluation.
An Overview
Those who are convicted of a DUI offense in Illinois must undergo a DUI evaluation conducted by the Illinois Department of Human Services. According to the IDHS, these evaluations "determine the extent of the defendant's alcohol and/or drug use and its associated risk to current or future public safety." Many accused are not prepared for these evaluations and do not realize that they can have a major effect on their sentencing and future.
If you have been convicted of a DUI-related offense but want to fight to retain your driving privileges or lessen your court-mandated requirements, then we invite you to contact us at The Toney Law Firm, LLC today. Attorney Sarah Toney is an award-winning Chicago DUI defense lawyer with more than a decade of legal experience. She has navigated countless DUI cases and helped every one of her clients put these cases behind them as swiftly and favorably as possible.
---
Maximum penalties can still be avoided. Contact us today at (888) 473-4058 to start preparing for your DUI evaluation.
---
What Your DUI Evaluation Entails
IDHS reviews four different things during your DUI evaluation: your Objective Test score and category, your blood alcohol content test results, your driving history, and a brief interview given at the evaluation. The interview will be about your drug and alcohol use and will be checked against the other reviewed items and possibly other sources. In the end, they will then give a recommendation to the Court or Office of the Secretary of State concerning your sentencing and driving privileges. You may also be asked to provide a urine sample at the time of the evaluation.
The four recommendations and what they mean are:
Minimal risk: the accused poses a minimal threat on the road and needs to complete a minimum of ten hours of DUI Risk Education.
Moderate risk: the accused must complete a minimum of 10 hours of DUI Risk Education and a minimum of 12 hours of early intervention. The early intervention must occur over a minimum of four weeks with no more than three hours a day in any seven consecutive days.
Significant risk: the accused must complete a minimum of 10 hours of DUI Risk education, a minimum of 20 hours of substance abuse treatment, and any activities as part of an ongoing care plan.
High risk: the accused must complete a minimum of 75 hours of substance abuse treatment and all activities specified in an ongoing care plan.
It is up to the Court or Office of the Secretary of State to agree with a DUI evaluation recommendation at a later hearing—so it is critical that you maintain proper counsel during this time. Our firm can help assert your rights during this process and ensure that you are given every consideration afforded to you under the law.
---
Do not hesitate to protect your future. Call us today at (888) 473-4058 to request a free case evaluation. For your convenience, we have also included a DUI Evaluation Appointment form below for prospective clients to review and acclimate themselves with DUI Evaluation requirements.
---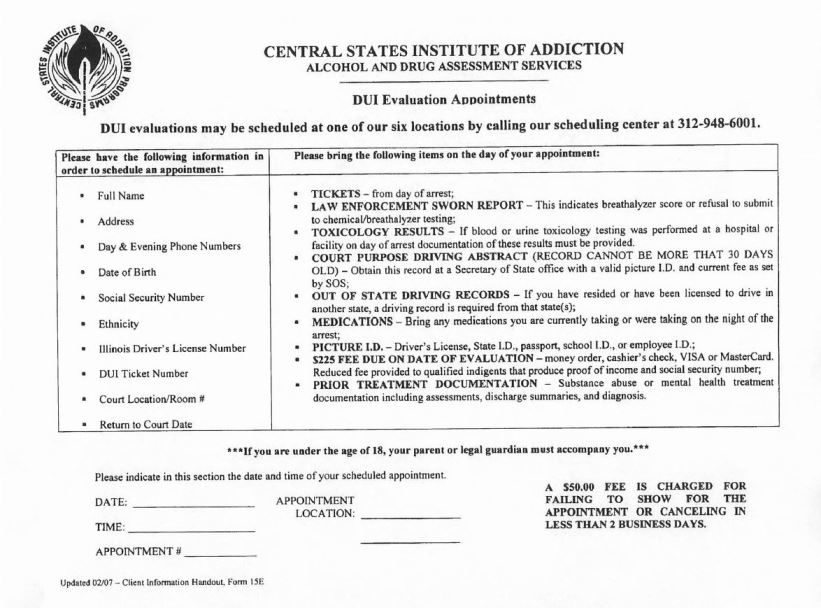 Case Results
Always Pursuing the Best Possible Outcome
Results Thrown Out DUI Death Case

Acquitted DUI

Not Guilty DUI

Not Guilty DUI

Not Guilty DUI
Meet Your Attorneys
Highly Educated & Experienced Trial Lawyers
"She was 100% honest with me the whole time"

- Former client

"Outstanding job!"

- Former client

"Impressive Attorney!"

- Former client

"Professional and Compassionate!"

- Former client

"A great listener!"

- Former client
Watch Our Informative Videos on DUI Defense
Get Started On Your DUI Or Criminal Defense Today!
Schedule Your No-Cost Consultation